If you want your special day celebration or corporate events to exude sophistication and style, look no further than Jyothi Caterers. Their wedding caterers in Hyderabad bring their signature-level cuisine to each private function you organize in Hyderabad. Jyothi Caterers is a full-service catering company that organise everything in fine detail to make your special day truly memorable. You and your guests can relax and relish in the ambience as the professional wedding caterers at Jyothi Caterers look after everything for you.
Jyothi Caterers offers a wide range of dining menus that include delicious entrees, mains, sides and desserts & offer a bespoke menu for that extra special flair. They can design and implement creative menus for weddings and home gatherings. Jyothi Caterers organise catering and event services for a variety of corporate activities, including training sessions, all-day conferences, boardroom meetings, and even staff parties. The professional wedding caterers at Jyothi Caterers offer a wide range of menu selections across all cuisines and tastes. Their expert event coordinators can also help you source the food ingredient, furniture and styling elements to make your event truly memorable. Talk to Jyothi Caterers about your budget and requirements. Expect a special menu suggestion from them as well. They will love to cater the best for you!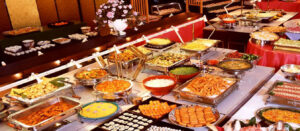 "We love food, and our premium quality food menus are applauded for their flavours and superb presentations! Have the perfect celebration featured with our delicious food stations, and crafted canapes combined with the best menu for greater choice! One thing is for sure, your guests will love what we prepare! We ensure guests can mingle in an inviting atmosphere. We have the food stations loaded with delicious food menus, and we ensure that there's something for everyone! We always strive to bring the wow factor to your party. We include workstations with expert chefs that cook right in front of your guests. We also have beautiful food & delectable dessert stations that are always crowd pleasers! We can cater just about anywhere and guide you to ensure you have everything you need to flourish your event. With a range of menu styles including Barbecue, Buffet, we can tailor your menu to fit your vision. Our dedicated wedding caterers in Hyderabad are here to assist you with all aspects of your event. If you require any help or advice, please don't hesitate to contact us." Say a spokesperson for Jyothi Caterers.
About the Company
Jyothi Caterers is a luxury catering company based in Hyderabad that has brought exceptional catering services for the past decades. They are backed by a team of efficient wedding caterers that works round the clock, ensuring your event stands out of par excellence. 
Contact Information
Jyothi Caterers
Call: +91 9296659876, +91 9985504988
Email: arvapalli.sandeep2001@gmail.com