12th March 2022, Jordan Go Jordan Tour is a leading tour operator & travel management company engaged in offering individualized vacations throughout Jordan. They specialized in providing our guests' discriminating taste for the ultimate travel experience, from custom-designed, individual trips to fully-escorted, special-interest groups! They create personalized Biblical tours and vacations conducted by carefully picked English-speaking guides. They offer all of their guests the safety and security while travelling. The experienced travel professionals exclusively focused on the well-being and satisfaction of their customers.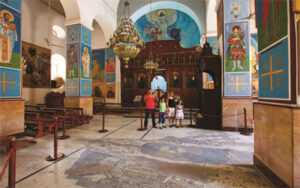 Go Jordan Tour believes that customer satisfaction is the key asset for its success. They sustain our success by being customer-oriented and exceeding the needs and expectations of valued guests with their most experienced guidance and service with utmost professionalism. Thanks to Go Jordan Tour because they have devoted themselves to building client-friendly Biblical tours and taking them to history. They have a passion to flourish the tourism of the cradle of civilizations. They make sure that all of your itinerary's arrangements are handled smoothly and that you have total support in the event of an unforeseen occurrence or emergency.
"Our group tours to Jordan are bursting with unique experiences. We welcome our guests with meet & greet service, assist upon arrival and help with the visa procedure. We can even arrange  the tourist visa for you. When you contact our team about Biblical tours to Jordan, you receive a professional travel consultation with one of our specialists, who has personal experience in your Biblical tour itinerary. Our prestigious firm is known for its excellent guidance and prompt responses. By creating vacations that deliver style, content, comfort, and value, our Destination Specialists are dedicated to enhancing lives and broadening understanding.  With unforgettable experiences to choose from, our Biblical tours will leave you with memories that last for years to come. Whether you want to visit the Dead Sea or the lost city of Petra or explore the bustling capital of Amman, our trips will add that extra layer of adventure to your holiday. And with our signature Biblical tours, you'll have the best of both worlds of Jordan and Jerusalem. Our effort & dedicated service is some of the reasons why we are most liked by our esteemed clients. We can customize your Biblical tours or any holiday that fits you or is ideal if you would prefer to change the itinerary, dates, or simply wish for a private Biblical tour with your family, group of friends, or fellow enthusiasts. We can design shorter or longer itineraries according to your interest." Say a spokesperson for the Go Jordan Tour.
About the Company
Go Jordan Tour is a renowned tour operator & travel management company that offers customized travel to Jordan. For decades, they were at the forefront of the prestigious travel industry in Jordan.  They focus on low-impact, sustainable tourism that steadfastly supports environmentally!