If you are looking for someone in Stuart, FL, to repair lights in your home or business, the team at American Lighting is ready to offer comprehensive lamp repair services in Florida. Since we are a locally owned and operated company, we place a strong emphasis on customer satisfaction and do not skimp on the quality of our workmanship. As part of our dedication to you, we perform high quality work on all jobs.
With our quick response times and flexible appointment availability, we make sure that you are not left with a lighting problem for long. We are Florida's best and certified electrical contractor, so you can trust us in our work.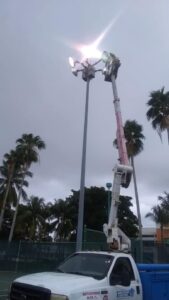 We want you to benefit from our:
Knowledgeable staff
Easy and quick repair
Affordable services
At American Lighting, we strive to be the ones you turn to for lamp repair Stuart FL. We will provide you with options for the repair or replacement that will fit your budget and your specific lighting needs. To schedule an appointment with one of our electrical contractors, give us a call at your earliest convenience.
Reliable and Creative Lamp Repairs in Stuart, FL
Rather than throwing away a lamp that is not working properly, overflowing your landfill site, it's best to consider lamp repair in Stuart FL. This option is both economical and environmental-friendly.
The experienced electrical experts at American Lighting USA can repair your non-functional, old lamp and make it work like new in no time at all. We can easily handle minor and major repairs. And not only our services are prompt, but they are affordable too.
Let there be light, again!!!
If you have a lamp that you just cannot bear to part with, a treasured family heirloom or antique, for instance, bring it to us to take advantage of our lamp restoration service. Do not relegate that chandelier, desk lamp, or floor lamp to the storage space n your garage. Instead, give it a new life as we are the masters in refurbishing every lamp type.
Our electrical experts can perform a wide range of upgrades to renew your lamp. Let us take care of it by providing complete customization. Our team works on all types of lamps, including traditional, modern, rustic, European, etc.
Customization is the way!!
Maybe your lamp works well, and it's not that old, but it just does not provide a spark to your office or home. It merely provides illumination, and that's all. So why not make it fully operational by adding great style and flair that is much more desirable.
If the situation sounds familiar to you, we are there to help. Choosing lamp customization is a great idea to give your lamp a new and improved look that is truly unique and specifically yours.
We offer many different customization options so that you can find one that truly blends with your restored, repaired, and customized lamp.
Contact American Lighting USA for lamp repair and restoration services. We are proud to serve customers in Stuart FL, and the surrounding areas.