Photo booth makes a beautiful yet visually appealing addition to every corporate event. Pic Click Photobooth provides customizable corporate photo booth hire packages for ensuring stunning backdrops, graphics and tools to create the wonderful experience for your event. Whether you want to add an extra touch of fun to your corporate event or entertain your guests, their corporate photo booth rental is right for you. Though they provide customizable packages, you can design as per your event name and theme making it one-of-its-kind keepsake for your corporate event. If you want to truly capture your corporate event, you should get in touch with Pic Click Photobooth as soon as possible.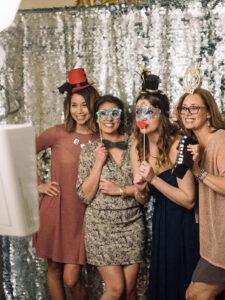 Corporate photo booth hire is considered a good marketing tool for every business. It's full of fun and interactive as well as will help you promote your brand as well as business effortlessly. They capture photos and share them on social media networks that will help your brand to reach much wider audience instantly. Through corporate photo booth rentals, you will share photos on social media and your clients will find them and help you build brand recognition. Every business owner finds it bit awkward to approach their people and to interact with them. This is where a photo booth rental comes in handy. Corporate photo booths give you opportunities to get familiar with your guests. They make people feel more comfortable and encourage them to get involved. Even, you can start conversation without any further hesitation.
"Our corporate photo booth rentals are full of fun and excitement. By booking our package, you can turn your corporate event into an exciting experience to cherish forever. Your employees and clients will interact better which will help you build a stronger team. Our photo booth makes a significant impact on your audience. They will provide you with most memorable experience for your corporate event. We make sure that your guests will have beautiful memories of your corporate event as possible. For more information about our corporate photo booth hire packages, feel free to contact us today and we'll get back to you as soon as possible" says a spokesperson for Pic Click Photobooth.
About the Company –
Pic Click Photobooth is a premier photo booth rental company providing a comprehensive range of photo booth rental packages in Bahamas for special events like weddings, baby showers, birthday parties, corporate events, etc. They specialize in offering excellent props, spectacular backdrops and deliver you beautifully captured photos as possible. For more information about photo booth rental packages, please visit the website at https://www.picclickphotobooth.com/.