Food is a crucial element in any event, irrespective of its size and nature. The food served at a gathering plays a significant role in determining the mood and feel. Therefore, Jyothi Caterers come forward to provide excellent food products & service to the highest possible standard. They uniquely serve guests and cater to what all of their clients need! They focus on making quality food from the beginning and pairing it with the friendliest and customer-centred service possible. Whether you need the best catering service for a wedding, a dinner party, or a corporate event, they provide the highest quality foods made with the freshest ingredients. Their professional catering staff cares about all. They allow you to relax and enjoy your event along with the rest of your guests. They feel pleasant to customize your food menu as you desire and remain flexible with the changes!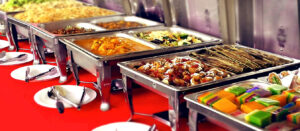 Jyothi Caterers have the best staff in the catering industry that strives to provide clients with the best catering service in Hyderabad. They are making fresh and delicious food that tastes just the way you'd imagine and the best that the catering world can offer! They understand the client's needs and present them with the best possible recommendations. Jyothi Caterers is passionate about delivering delightful catering and cuisine to every client. They are the leading catering service in Hyderabad, and their efficient yet experienced team creates the best party menu that meets your specific taste and style. Call them today to schedule an appointment and finalize your catering needs.
 "Food catering is all about sharing, savouring, and the passion for serving the best for clients. We appreciate your concept and provide the custom menu that fits best to your exact needs. Size or type of event does not matter much to us! We are one of the leading & best catering services in Hyderabad, and we promise to provide exceptional food & beverage service to our clients and their guests. No events are big or small for us. We are happy to give the food of the highest standard for a wedding reception, corporate events, office events, social events, South Indian weddings, or any event that needs premium food and hospitality. We continually enhance the quality of products & services and improve our own skill sets through learning & development while paying attention to details. It will help us provide a better yet fantastic food & beverage experience for the people or guests we serve. We will help you in designing the perfect party menu for you and your guests. Let your taste and style shine at your celebration! Together, we will make your visions into a reality and make your event unique and cherished! Say a spokesperson for Jyothi Catering.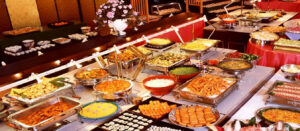 About the company
Jyothi Caterers is a leading catering company in Hyderabad that has in-depth knowledge in food & beverage. They know how to handle every possible aspect of the budget as far as catering. Their team of expert professionals is dedicated to serving the finest to clients based on their catering requirements and budget.
Contact information
Jyothi Caterers
Website: https://www.jyothicaterers.in/