Premium quality food is all that everyone expects when it comes to special occasions or events. Jyothi Caterers can fulfill the same with their best premium quality & hygienic food. You can trust Jyothi Caterers to find the perfect veg menu or customize a catering menu for you. They can transform your dream ideas into a memorable experience. They provide the right taste that your occasion demands. If you are busy with your event, they will take care of your guests. Be it a corporate meeting, wedding, small office party award function, team lunches, or any social celebrations, Jyothi Caterers serve excellent quality cuisine while keeping your guest profile in mind! Rest assured that all your guests will enjoy the food they like.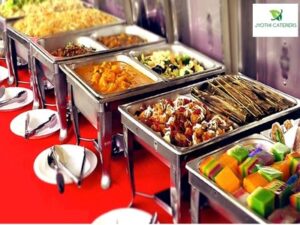 A corporate event is significant for you & your company. Adding specialized corporate catering is one of the best ways to bring prosperity to your future business. The caterers at Jyothi Caterers are experts in handling all kinds of large or small events. They do a marvelous job of making your party successful & memorable. They can provide breakfast, lunch, dinner, and snacks customized and crafted for each client's needs. The professional chefs at Jyothi Caterers ensure that each food item is healthy and pleasing to the taste bud. They are equipped with an enriched menu of south Indian vegetarian and non-vegetarian dishes in different sections. They handpicked the best quality food ingredients, assembled them in a hygienic environment to prepare an authentic menu for your platter!
"Welcome to "Jyothi Caterers"! We are all about delighting your taste buds with our premium quality veg & non-veg food catering. We are incorporated with an ultimate motive of serving quality & hygienic food at a reasonable price list. We believe that the people in Hyderabad need more of a choice when it comes to food. Let us together get more in touch with the culinary world. We work only with the best ingredients suppliers in the Industry be it the fresh vegetables as well as the extra items. We are committed to hiring the best talents in the catering industry and developing them into passionate professionals. We don't compromise on the ingredient quality even if we had to source it at a higher cost. We also provide specialized caterers in Hyderabad that come with an incomparable price list. Our culinary style, incomparable service, quality food preparation, delicious cuisine and unique vision have made us an industry leader in the catering industry. We delight you with our quality food & price list irrespective of your events or occasions or its size. We want to share our passion and love of cooking &entertaining, and bring it to your event. We will be with you every step of the way giving you a personal and friendly service." Say a spokesperson for Jyothi Caterers.
About the company
Jyothi Caterers is a leading catering company in Hyderabad that helps the client build an excellent experience for delightful food catering and unmatched prices. They provide comprehensive catering service for different occasions and meet the most demanding expectations & tastes of clients.
Contact Information
Jyothi Caterers
Phone: +91 9296659876, +91 9985504988
Email: arvapalli.sandeep2001@gmail.com