Go Jordan Travel and Tourism organizes the best biblical tour itinerary, ensuring to make it a journey of a lifetime. The tours are designed for spiritually-minded travelers, those interested in history, and all the Biblical tours packages are customized based on your budget & preferences.
Relishing the magnificence and magic of the enormous Biblical destinations of religious significance in Jordan & nearby countries is a dream for every travel enthusiast and avid traveler of Biblical interest. The biblical tours organized by Go Jordan Travel and Tourism offer the best opportunities to explore and enjoy. Explore diverse offers of Biblical tour packages that will take you to new places echoing with thousands of years of history. From the panoramic views over the City of Jordan & Jerusalem to the unique scenery of the beaches located by the Dead Sea, their Biblical tours will reveal so many places of Biblical interest. They fuse powerful technology, an exceptional network of local experts and travel guides, intricate operational capacity, and a multicultural team to provide the best support to travelers from around the globe.
Go Jordan Travel and Tourism has reinvented what it means to travel in Jordan & Jerusalem. They teamed up with talented guides and local experts to craft unique Biblical tours and have tremendous experiences with global travelers. They expose the country's hidden gems and take you off the beaten path to experience the best place of interest in the countryside. They let you see the best things that Jordan & Jerusalem offers and reveal the areas yet to be made accessible to the new travel generations! Go Jordan Travel and Tourism work aims to give vacationers a lifetime travel experience above and beyond the average journey. They take care of all the luggage so that travelers can sit, back, relax, and enjoy an unforgettable Biblical tour and religious travel experience. You will have a new realization of the Holy Land after you have finished the Biblical times with Go Jordan Travel and Tourism.
"We have always embarked on our mission to change the face of Jordan's tourism industry since our inception! We have been seeing Jordan & nearby countries as a niche destination with an unlimited number of attractions of Biblical Interest that mostly appeal to religious tourists. While you travel with us, you can be certain to have the best of accommodation, transportation and guide service. Such facilities make your journey truly exceptional and stress free. We recognized the tremendous untapped potential of our multifaceted culture, cuisine, street life, history and so much more to offer beyond the conventional travelling and tourist attractions. Our team will explain to you all about the places you visit so that history unfolds in front of you. You name the Biblical place of interest in Jordan & Jerusalem and we promise to take you there. Our belief in making beautiful travel experiences accessible for all is at the heart of everything we do, and the way we do it for our esteemed clients. Come and join our Biblical tour or call us to customize your journey based on your interest." Said a spokesperson for Go Jordan Travel and Tourism.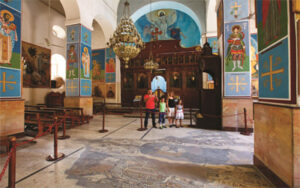 About the Company
Go Jordan Travel and Tourism is a leading tour operator & travel management company engaged in providing the best that Jordan can offer its guests. They have decades of experience in the travel industry and have the dedication and passion for organizing the best tours, including the Biblical tours in Jordan & Jerusalem.