Singapore, 17th Oct 2023
In the ever-evolving landscape of entertainment, where digital experiences dominate the stage, iPad magician TK Jiang's groundbreaking performances redefine imagination. With a fusion of technology and artistry, TK's iPad magic captivates global audiences and elevates innovation in entertainment.
As traditional presentations yield to digital marvels and inventive product launches, incorporating iPad magic into your event sets you apart. Whether hosting a product launch or corporate gathering, TK Jiang's iPad magic guarantees the pinnacle of entertainment and creativity.
Gone are the days of conventional close-up magic. TK Jiang's iPad magic adds a contemporary twist, utilizing the iPad as his canvas to merge technology and magic seamlessly. Customize acts to align with your corporate event's theme or branding for a truly personalized experience.
"In this era of technology and digitization, TK Jiang introduces iPad magic—a captivating blend of digital wizardry and spellbinding illusions," says a spokesperson for TK Jiang. "Witness mind-blowing effects and mind-reading feats that awe audiences. His ability to customize acts to align with your company's logo or theme sets him apart. Notable clients include industry giants like BNY MELLON, ZEBRA, Shell, and Microsoft."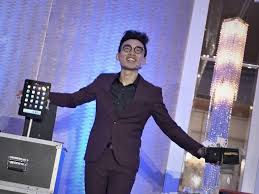 About the Author:
TK Jiang, an iPad magician based in Singapore, has earned numerous accolades for his innovative approach to magic. His portfolio includes digital magic for product launches, brand promotions, and corporate events worldwide, with clients such as Microsoft, Deloitte, Shell, Yum, DBS, and more.
For media inquiries, bookings, and additional information, please contact:
Website: https://tkjiang.com/
Email: bookings@tkjiang.com